Apply for Diplomate Membership Online
Apply for Diplomate Membership of ABPS
As a member of the premier psychotherapy association designed to assist psychotherapists, you will receive many benefits and services to help you and your patients.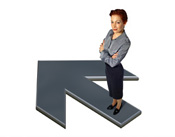 Diplomate status (DAPA) is a prestigious designation that all psychotherapists should strive to attain. It is based on measurable skills, knowledge, experience, education, and training.
Diplomate status is only available to applicants who have achieved a minimum of a master‡s degree from an accredited institution or foreign equivalent in a psychotherapy related field.
All applicants must have a minimum of four years of professional psychotherapy experience.
Successful Applicants must possess and maintain an excellent professional portfolio and demonstrate extensive education, experience, knowledge, skill, and training.
Diplomates are strongly encouraged to complete a minimum of 15 continuing education credits per year to maintain their status.
Diplomate status through the American Psychotherapy Association is registered with the National Certification Commission and is a voluntary process that recognizes excellence in the profession of psychotherapy.
Applying for Diplomate status with the APA is easy. Simply complete a short application online and submit copies of your resume and supporting materials via fax or mail.
Apply for Diplomate Status Online
For more information or for help with the application process please call toll free (800) 205-9165 or send an e-mail inquiry.
Fellow status (FAPA) is a distinctive honor that APA can bestow upon a member. In addition to meeting all of the requirements of a regular member, candidates for Fellow status must have completed all of the requirements listed below.
Be an APA member in good standing
Achieved Diplomate status (DAPA)
Held the Diplomate designation (DAPA) for a minimum of 3 years
A complete curriculum vitae, copy of state issued license(s), 3 letters of recommendation from professionals in your area of expertise, and 2 work products must be forwarded to APA via fax or mail to complete your application for Fellow status. A one-time passage fee of $250 will apply.
For more information on how to become a Fellow, please call (800) 205-9165.
Download Fellow Status Application
Apply for Fellow Status Online
Designed to increase your cutting–edge knowledge of the field through exclusive continuing education programs.
Establish the personal friendship and professional networking opportunities of our thousands of members.
Reduced continuing education and registration fees.
Error and Omissions
Professional Liability
Life
Long-term Disability
Long-term Care
Annuities
APA members can apply for rentals at Hertz. Use code #1475097. Visit Hertz.com or call 800-654-2210.
A quarterly, peer-reviewed journal (educational and informative) which provides you with continuing education credits through journal learning.
Members-only area
Annals CE journal articles and Online Courses
Provides you with the opportunity for more referrals
A national board of leading psychotherapists with the vision and commitment to help you grow
A state-of-the-art itinerary and pricing program
Car rental discounts through Avis
Apply for Diplomate Membership Online
Apply for Diplomate Membership of ABPS